Independent Insurance Marketing Agency Resources
Insurance Marketing is big business and a vital piece of the puzzle when it comes to insurance lead generation in 2019.
With most insurance agents being fiercely focussed on selling insurance, insurance marketing strategies and insurance agent marketing plans can often not get the time and attention they so rightly deserve.
In this guide to independent insurance marketing agency resources, we talk about some of the most dependable and effective ways to market insurance products.
Introducing an insurance agency to the biggest pool of prospects and building a credible brand can pay dividends when it comes to selling more insurance and asserting an insurance agency as a credible market leader.
Traditional insurance marketing strategies are notoriously time-consuming and expensive! Thankfully, there are new innovative ways to market insurance online that make it quicker, easier, and more cost-effective than ever before.
Must-Have Insurance Agency Marketing Resources for 2019
In a highly-competitive industry, insurance brokers and insurance agencies need to flush out every opportunity to connect better with their clients, followers, and prospects alike.
Your Website
While having an effective insurance agency website is absolutely essential to achieve success in this sector, your online presence needs to reach beyond your website in order to capitalize on the entirety of the available prospect market.
Before we talk about the other resources that you can use to help you market an insurance agency, take a moment to consider whether or not the core insurance company website is the best it can be.
Does your website adhere to the three-click rule?
They should be able to easily get to the point they were looking for within no more than three clicks.
Is your website overcrowded with information that doesn't lead them to buy a product?
Try to take a fresh look or ask for some impartial feedback on the site.
When was the last time the content was updated on the insurance website?
It should be updated regularly.
Aside from these three points, you need to remember to keep your website looking fresh and up to date.
Writing a blog or sharing relevant news is a quick and easy way to keep things up to date.
If you share resources that help educate your prospects and clients, this is a great way to build up the credibility and the followers of your insurance agency.

Social Media Scheduling Software
There are low-level freemium versions of this type of software available, and even with the paid versions, the price is relatively low-cost when you consider the time this will save you having to update your individual social media channels manually.
Social Media scheduling for insurance marketing will help you deliver a consistent message across a number of different social media channels.
As we all know, social media can have a huge impact on insurance marketing, and it is a proven way to generate more insurance leads. A good social media presence is key. However, for many, the added time it takes to post, respond, and manage the social media for insurance agencies can soon add up.
Using a scheduling tool for social media can drastically reduce the time spent administering the different social media channels, and they offer the potential to schedule your content and posts up to a month in advance. This can also boost your efficiency on the different social media outlets; it can help improve your brand awareness and build credibility for an insurance agency.
Buffer, Hootsuite, Coschedule, and Smarterqueue and Zoho Social are all excellent products to try out.
Email Marketing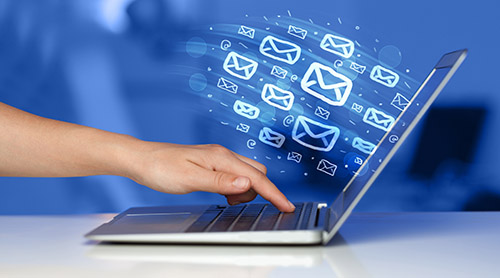 It goes without saying that email marketing for insurance has a firm place in any insurance marketing strategy. However, the manual nature of email marketing can often prevent this channel from being used as effectively as possible.
Automated email marketing is a cost-effective way to deliver consistent contact with your existing customers as well as your prospects.
With the myriad of automated email marketing solutions, this presents a highly competitive marketplace, the result of which is a lot of very good solutions that are available at a low-cost.
Simply sending out a newsletter or monthly update isn't enough to keep you constantly in the mind of your customers.
When you invest in a platform that automates your messaging, you should also get powerful analytics that will tell you what messaging is working well for you; it will indicate the best times and days to send your messages out as well.
Aside from this, you can easily set-up auto-responders that are triggered when prospects or clients take certain actions on your website or when they need to take action.
This can save you time; it can help you to become more efficient, as well as helping you to portray a more professional image of your insurance agency at all times.
Tip: Personalized marketing helps you to connect on a different level with your prospects and clients. Why not set-up automated email marketing to deliver a happy birthday to them!
Continue reading our Complete Guide on Marketing Ideas for Insurance Agents in 2019.
Canva
Canva is one of those independent marketing agency tools that you use once and never look back from.
It is an innovative software solution that makes it incredibly easy to create brand-specific imagery to use on websites, social media, email marketing channels and so much more!
For those who cannot stretch their insurance marketing budget to cover a full-time graphic design, Canva is a superb alternative.
Whether you need to free up time, or perhaps you want to create a library of professional image templates to access and use with ease, Canva offers one of the best options for doing this effectively.
They also have an affordable subscription-based pricing model.
Online Survey Tools
This is nothing new, but an important marketing agency resource that must have a place on this list has an effective survey tool. There are lots of options available that enable you to get to the crucks of what matters to your prospects and clients.
When used effectively, online survey tools can help you to understand the pain points of your customers; it can help you refine your product messaging, it can present cross-selling opportunities and tell you directly if your agency is falling short in any key measurables or services aspects.
Here are a few to consider:
Feedly
Following on from our earlier point about scheduling in your social media posts, Feedly will complement your in-house content creation!
Not all insurance agency marketing strategies will have the budget for regular content production, as such, services such as Feedly make an exceptionally cost-effective alternative to this by aggregating content from other sources for you.
If can help you weed out the good from the bad and finds highly-shareable content for you to be able to quick and easily share with your network of clients and prospects.
You can use is to find updates relevant to the insurance market, regulatory changes, health and wellness tips and so much more.
Sharing useful content can help to build an insurance brand that is credible, useful, and trustworthy.
Furthermore, the more often you post regularly, the fresher you are in the mind of your clients and prospects.
Email Cleansing Software
If you are going to be using email marketing as part of an insurance marketing strategy, then you want to give your message the best possible chance of success.
On average, people change their email address once every 3 years. As such, email list accuracy declines rapidly unless close attention is paid.
You can easily remove subscribers who are non-responsive or who no longer have active email addresses using software that helps you to scrub your email list.
There are lots of options to choose from, and they are all budget-friendly options.
Here are just a few:
Biteable
In 2019, insurance marketing strategies should be incorporating some form of video marketing into the mix.
For an independent insurance marketing agency, this is a great way to stand out and help your clients stay ahead of the curve.
If we look at Facebook in isolation, this channel generates more than 10 billion video views worldwide on a daily basis; and that's a number that is growing all of the time.
While in the past, you may have needed professional video editing software in order to create professional marketing video content, this is no longer the case.
Biteable is just one example of a template-based video creation tool that helps marketing agency create compelling video content for their clients.
Knowing How to Market an Insurance Agency
Regardless of the different tools and techniques that are used to successfully market an insurance agency, it is important to always put the customer at the heart and soul of any campaign.
Understanding the customer, their pain points, their triggers, their buying signals, and their concerns is key. There is no one-size-fits-all approach to this, and every insurance agency is completely different. Complete Guide to Product Training

Successful Marketing Management For 2019
Here are a few essential activities for the successful marketing management of any insurance agency in 2019.
Keep a clean database – using some of the tools listed above to help you to establish who is responsive and who is not. Clear out any dead email addresses and run a promotion to help you get up to date contact details from your past and present prospects.
Use Paid Social Media Advertising – it is a low-cost way to engage a wide audience, get new prospects and keep in touch with existing clients. Make sure you regularly post and update your social media pages to keep an active presence. If you don't have the resources or budget to do this, invest in social media management tools and use a content curation service like Feedly which is listed above.
Online Reviews Matter – If you aren't already asking clients to leave a review, then you need to start. The majority of people who make purchases online will do their research, and they use reviews to help them form an impression of the company they might choose to do business with (or not). Start a campaign or initiative to boost your online reviews and your credibility at the same time.
Use Automation to your benefit – there is a fine line between becoming a faceless company that uses impersonal automated messages for all their communications and being clever about what gets automated. Use trigger points to ensure you never miss that magic moment or an opportunity for interaction. But don't forget to keep messaging as personalized as possible. Live chat and Chatbots are two key resources that every marketing agency should be leveraging for their own and their client's benefit.
Using Insurance Marketing Tools to Your Advantage
Insurance marketing doesn't need to be exceptionally time consuming or expensive, and you simply need to make sure you are using the right tools for the right clients. Stay ahead of the curve and keep innovating, create professional content, and always listen to the customer's questions as they provide key indications of their pain points and needs.
Summary
Understanding that the role of an insurance agent has changed drastically in recent years is key to anyone who is in the business of independent marketing for the insurance sector.
As the regulations surrounding the insurance sector are constantly evolving, so is the need for insurance agency marketing organizations to more effectively and more personally convey the array of services on offer; and to do this effectively, the marketing messaging is still king.
Understand the client, understand their pain points, and make sure your marketing messaging is targeted towards their needs. Never Forget the End-Customer!
The need to generate leads for the insurance sector is still paramount, and making sure that an insurance agency is visible, credible, trustworthy, well-branded, and supportive is essential for their ongoing success.
Hosting Seminars, Investing in low-cost high-yield marketing activities, improving brand perception, and being active on social media are all key to executing a successful insurance marketing plan in 2019.
"I've tried every marketing program the company has to offer. RECAMP® has generated more business than all the others combined."
"The first year I used RECAMP®, it paid for its self in just a few months."
"By consistently working RECAMP® my production is up 147% over last year."
Less time.
Less money.
More results.
Recamp
918 W. Dewey Ave, Suite A
Sapulpa, OK 74066
Phone: (888) 882-8806
Fax: (918) 492-1552
| | |
| --- | --- |
| Monday | 9:00AM – 5:00PM |
| Tuesday | 9:00AM – 5:00PM |
| Wednesday | 9:00AM – 5:00PM |
| Thursday | 9:00AM – 5:00PM |
| Friday | 9:00AM – 5:00PM |
| Saturday | Closed |
| Sunday | Closed |